Intruder Alarm Systems
(01246) 434349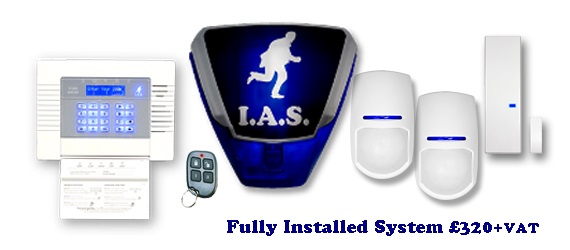 Fully Installed Wireless Intruder Alarm System Package
The system is fully wireless with a variety of wireless devices that are made to protect your home in any circumstance. Call us on 01246 434349 and we will help you design your own wireless Intruder Alarm System specific to your needs.

Once completed, a copy of the Agreement and the direct debit form will be send to you, verifying the list of equipment and the cost of the system plus VAT. Please sign this Agreement and return it to us by post or email together with the completed direct debit form.

When we receive your order, we will contact you to arrange a convenient time for the alarm installation.

The Control Panel and Digital Communicator (1 included)

This wireless control panel with two way device control, keeps a large log record of past entry events which can easily be reviewed. The panel consists of a digital communicator, an internal 85db sounder, a 16 character keypad, providing both visual and audible system information. The panel also has a standby battery which will supply the system with power in the event of a mains failure.

Passive Infra-Red Detector (2 included)

The wireless digital passive infra-red movement detectors provide wide coverage with a detection range of 12 metres x 85 degrees. They also include an integrated transmitter with an extended battery life.

Additional (£50)+VAT

Door Contact (White or Brown) (1 included)

These wireless door contacts are can support up to a 10mm gap available in white or brown and include an on-board battery.

Additional (£45)+VAT

Vibration Sensor

This wireless vibration sensor with on-board battery is mounted on the frame of a window or an external door, and used to detect a forced entry.

Additional (£50)+VAT

Fixed Personal Attack Button

This Personal Attack Button can activate a full alarm if the user is place in a threatening situation, providing peace of mind.

Additional (£45)+VAT

Smoke Detector

This Wireless optical smoke detector with its own sounder and battery is usually ceiling mounted in the entrance hall and on landings leading to bedrooms. (Not suitable for a kitchen or utility room). This device will continuously operate even when the system is switched off.

Additional (£65)+VAT

External Wireless Self-Actuating Siren (1 included)

Our external wireless self-contained sirens are a fully supervised 2-way device. When activated it sounds for 8 minutes, however the strobe light will continue for a further 12 minutes unless the system is unset beforehand. When the sounders battery starts to run down, a low battery signal will display on the control unit, however the system is still capable of two more activations before the siren becomes inactive. This unit complies with environmental classification 4.

Additional (£25)+VAT for Decoy Box

Remote Setting Device (1 included)

The Remote Setting Devices makes it easy to set and unset the alarm system. It can also be set as a panic button.

Additional (£35)+VAT
The wireless alarm control panel has a Digital Communicator which links to our Alarm Receiving Centre that is continuously monitored. The control panel reports the location of an intruder using your telephone line. It also works if you use telephone based broadband as we will install the required filters for free. If there is an alarm activation, we will contact your nominated keyholders.
Maintenance
Our annual service ensures the system is effectively operating when you require it most. We will check all devices and replace all batteries, not including digital setting devices.
Cost
The Keyholder only monitoring with one annual maintenance visit costs only £13.20 a month including VAT, all payments are taken monthly by direct debit and the agreement must continue for at least 3 years.
Prices for extra equipment include VAT